About CAI's Gold Star Community® Program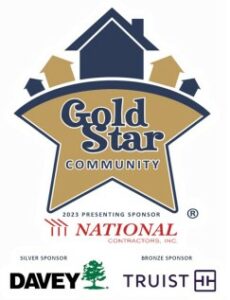 Please fully review the following information before starting your Gold Star Application.
 CAI's Gold Star Community ® program recognizes those communities that work hard to develop and maintain standards, encourage community participation, maintain fiscal stability and positively impact the quality of life for residents.
Homeowners and managers alike believe this program is an excellent way to evaluate policies and procedures, and assure that their community operates within basic industry standards.
PLEASE NOTE: Judging standards are subject to change.
Applications are scored by a team of judges. Certain questions on this application, if not answered satisfactorily, will result in the automatic failure of the application.
An independent review panel that may be comprised of an attorney, reserve professional, insurance professional, an elected association volunteer or homeowner, a certified public accountant, a community association manager and/or a contractor, will review applications. If an applying association does not qualify upon first submission, the association will be advised as to what area(s) need improvement. Associations may respond within 90 days at no additional charge. If no response is received within 90 days, the applicant may resubmit a new application with appropriate fee.
Communities who are awarded the Gold Star rating will receive an outdoor sign and a certificate suitable for framing. Each association approved as a Gold Star Community will be recognized for their achievement by CAI.
DISCLAIMER
The Gold Star Community® Program indicates to professionals, business partners, and existing and prospective owners that the community follows basic and open policies and procedures. Associations participating in this or any other program sponsored by the chapter remain responsible for their own liability and the liability of their volunteers, officers, and employees. In determining that a community qualifies for the Gold Star rating, the chapter evaluates procedures and practices of the association for general conformance with industry standards based upon answers in a questionnaire developed by the chapter and certain supporting documentation. The chapter does not have the resources to investigate the accuracy of information supplied by the association and does not do so. No one is entitled to rely on the Gold Star Community program as an indicator of the fiscal soundness or proper operation of the association or for any other purpose.
Non-Renewing Communities or communities that fail the renewal process are not authorized to continue using the Gold Star sign, logo or name in any manner.
Submission Criteria
DEADLINES: There are two application periods each year. January 1-March 1; and August 1-October 1.  
Applications submitted outside of these periods may be held for review until the next period.
CAI membership is not a requirement. The non-member community Gold Star Application fee includes a one year membership for your community associations entire elected board of directors, up to 15 individuals.
All applications must be submitted on the forms provided with required attachments. Applicants may be asked to supply additional supporting documentation.
Gold Star Communities ® are required to submit a renewal application every three (3) years.
Please have these mandatory documents ready to attach to your Gold Star Application before you begin (pdf, docx or xlsx files only). You will not be able to submit an application without all of these documents attached.
Current year capital and operating budget
Current balance sheet
Most recent reserve study . Your reserve study must be no older than 5 years and must be completed by an independent reserve professional / engineer.
Most recently audited / reviewed financial statement.
Insurance requirements from your community's governing documents. 
Current insurance certificates for all insurance policies including property, coverage, general liability, D&O and fidelity coverage.
This form is currently closed for submissions.