Community Associations Institute is an international membership organization dedicated to building better communities. The Keystone Chapter is the critical component to building better communities in Pennsylvania, South Jersey, and Northern Delaware. The Keystone Chapter strengthens our members by providing education, information, and advocacy that are central to managing and governing responsible, exceptional community associations.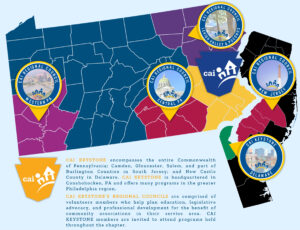 The chapter was incorporated in August of 1975 as the Mid-Atlantic Chapter of CAI. The organization served the community association industry in Southeastern Pennsylvania and portions of Southern New Jersey until its merger with the Western Pennsylvania chapter in 1998 and the Northeastern Pennsylvania chapter in 2002. The name of the chapter was changed numerous times to reflect the growing geographic territory of the chapter. The Keystone Chapter now serves the community associations industry throughout the entire Commonwealth of Pennsylvania, Southern New Jersey and Northern Delaware.
The 501c(6) non-profit trade association is a chapter of Community Associations Institute. CAI was founded in 1973 as a multi-disciplinary non-profit alliance serving all stakeholders in community associations. CAI provides education and resources to America's 300,000+ residential condominium, cooperative, and homeowner associations, and to the professionals and suppliers who serve them.
The chapter is governed by a board of directors comprised of community association managers, volunteer board members and homeowners, and professional business partners.
The chapter has adopted a Code of Conduct that applies to all members and all functions hosted by the chapter.
The chapter has adopted a Whistleblower Policy  that encourages staff and volunteers to come forward with credible information on alleged illegal practices or serious violations of adopted policies of the Organization; Specifies that the Organization will protect the person from retaliation; and Identifies where such information can be reported.