Homeowner and condominium associations can and should exceed the expectations of their residents, and we have information and resources that can help.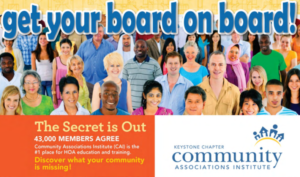 Your board should join CAI to gain access to a wealth of member benefits and information on managing, governing and maintaining your community association, including educational programs on legal, fiduciary and other critically important topics. 
Click here for a resolution your Community Association Board can adopt to join CAI.
Check out "An Introduction to Community Association Living," a basic introduction for homeowners new to community association living and a great resource for association leaders. This document can be downloaded from our national website.
Download for free our from Good to Great brochure that includes:
Rights and Responsibilities for Better Communities
Community Association Governance Guidelines
Model Code of Ethics for Community Association Board Member
For additional documents and information including a model code of ethics for community association board members, how to protect your association from fraud and embezzlement; resources for association board members and homeowners; free online help for homeowners and homebuyers; scholarships for CAI homeowner members and more, visit our national website.