Homeowner and condominium associations can and should exceed the expectations of their residents, and we have information and resources that can help.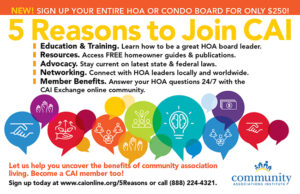 Your board should join CAI to gain access to a wealth of member benefits and information on managing, governing and maintaining your community association, including educational programs on legal, fiduciary and other critically important topics. 
Five Reasons to Join CAI
Homeowner Leader Education
CAI provides educational opportunities for elected association leaders, like you, so you have the most up-to-date information to effectively govern your community association and protect your owners' property values.
Resources
Join now to receive FREE live and on-demand webinars, articles, newsletters, best practice reports, and templates to help you better govern your community association.
Advocacy
Stay current on the latest state & federal guidelines impacting your community.
Connections 
Meet the professionals and business partner members of CAI who understand the unique nature of doing business with community associations.
Knowledge
Get answers to your questions 24/7 with the CAI Exchange online community and the Keystone Member Community.
Visit the chapter calendar of events for information on upcoming educational programs.
Click here for a resolution your Community Association Board can adopt to join CAI.
Join today to gain access to these are more member benefits and save on all CAI programs.
Check out these Free Resources Now
Check out "An Introduction to Community Association Living," a basic introduction for homeowners new to community association living and a great resource for association leaders. This document can be downloaded from our national website.
Download for free our from Good to Great brochure that includes:
Rights and Responsibilities for Better Communities
Community Association Governance Guidelines
Model Code of Ethics for Community Association Board Member
Check out free best practices reports and other resources from the Foundation for Community Association Research. 
For additional documents and information including a model code of ethics for community association board members, how to protect your association from fraud and embezzlement; resources for association board members and homeowners; free online help for homeowners and homebuyers; scholarships for CAI homeowner members and more, visit our national website.