Submit an Educational Topic for Consideration
CAI's program committees are always looking for experienced thought leaders, industry innovators, and dynamic presenters who can engage their audience and initiate thought-provoking discussions focused on learning that can help us grow and advance the community association industry.
Members that have subject matter expertise are invited to join the chapter Speakers Bureau and present an educational program. The educational programs hosted by CAI benefit our membership in the following ways:
CAI presents many learning opportunities for community association managers, volunteer leaders and homeowners. Managers receive continuing education credits for each program to achieve and retain CAI professional manager designations.
By speaking at these educational programs, business partners and managers who are subject matter experts gain exposure to and build relationships with our membership.
What are we looking for? How can you improve your chances of being selected to speak?
Be creative.
What's new? The same old topics don't work anymore. Think of hot topics and trends in the industry.
Sessions that are interactive and addressing trends and new information will stand out. All submissions will be forwarded to the appropriate program committee for review and selection of presentations.
Current Events – the Surfside tragedy and related issues, recovery from Covid, dealing with society's divisions and rising levels of anger among neighbors – these are all trending topics that managers and homeowners want to hear about.
What you need to submit a topic in the Call for Presentations:
Title of your presentation
Short description of the program you would like to present
Name and short bio of speaker
You do not need to submit an agenda or power point presentation at this time.
Click button below to complete the online Call for Presentations form. You can submit as many topics as you'd like but can only submit one at a time.
Need a suggestion on what topic to submit? Past program attendees have suggested some topics you can consider. Click the button below for a complete list!
Join the Speakers Bureau
To be considered as a speaker, you must be a member of the Keystone Chapter and must join our Speakers Bureau. Speakers are also expected to abide by and observe the Chapter Speakers Policies. The Board of Directors reviews and approves all applications for membership in the Speakers Bureau. Please be aware of the requirement that speakers agree not to present the same or similar topic ninety (90) days prior to or after the speaker presents the program for the Keystone Chapter, including for another local CAI chapter, company in house program, webinar, etc. 
Speaking at an upcoming chapter event? Here's some resources to help you have the best presentation for our members.
Speaking at an upcoming program? Be sure to sign and submit your speaker policy acknowledgement.
Chapter Power Point Template
All power point presentations for chapter education programs and webinars are required to use this template. If you are unable to access the power point template, check your file download settings, or please reach out to the chapter staff for a copy of the template.
Tips for Speakers
Check out this document with 20 Time-Tested Tips, Tricks & Techniques to Captivate Your Crowd for help in preparing your best presentation.
Free On Demand Program for Speakers
Delivering Effective Presentations: A Virtual Speakers Training Event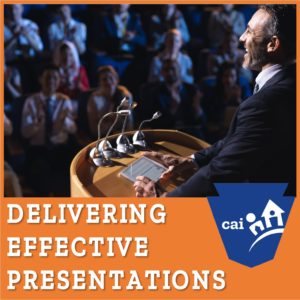 All members scheduled to present a chapter educational program are encouraged to enroll in this free, on-demand two hour virtual training session. In this virtual workshop, participants will learn to design and deliver effective presentations, either virtually or in person. Specifically, you will learn to:
Design presentations with the learner in mind
Design engaging interactions and activities
Plan effective visuals
Deliver presentations in a more dynamic, engaging way
This program is free for all chapter members, but be sure to log in to receive member pricing.