CAI's Legislative Action Committees are funded by member's contributions. The cost of government advocacy and representation in the state capitol represents over 80% of the LAC budget. Your contributions are critical to helping the LAC fulfill its advocacy mission, communicate with members and policy makers, and retain the services of professionals who help CAI shape the debate concerning issues important to our members.
Resolve to Support Your State LAC Today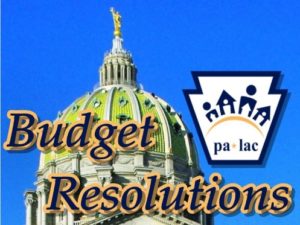 CAI's Pennsylvania and New Jersey Legislative Action Committees (at this time there is no Delaware LAC) are your watchdogs in the state capitol, passing legislation to improve community associations, fighting off harmful legislation and going head to head with powerful and well-funded special interests like big banks and local government. These efforts come at a significant cost. With your help, we can continue to advance issues in the legislature that are important to the success of community associations.
Individual Donations
Click here to contribute $10, $25 or any amount today to help CAI fulfill our important advocacy mission.
Business Partners and Management Companies
Help the Pennsylvania LAC by becoming a Legislative Advocate Sponsor at four different levels. 
Community Associations
Double your impact with a $2 per door donation to your state legislative action committee. This donation form can be used for both the Pennsylvania & New Jersey LACs. Contributions will be forwarded to the appropriate LAC based on the state in which your community is located.
Your contributions help raise the LAC's profile in Harrisburg and Trenton and give CAI the opportunity to be proactive in shaping legislative outcomes. Every dollar of your donation to the LAC goes to support the efforts of CAI to represent and protect our members on state legislative and regulatory efforts.
CAI's PA LAC is not a political action committee. No portion of your contribution to the LAC will go to any political party or candidate for any political office.
Contributions or gifts to CAI are not tax-deductible as charitable contributions for federal income tax purposes. CAI does have Political Action Committees which you are also encouraged to support via the links below. 
Pennsylvania Political Action Committee
New Jersey Political Action Committee
2023 Legislative Advocate Program Honor Roll
PA LAC is grateful for the support of the following organizations. You can join the list of supporters below by becoming a Legislative Advocate sponsor. Or, have your community contribute to our Dollar a Door Campaign.
Governor ($1000)
Hamburg, Rubin, Mullin, Maxwell & Lupin
Hoffman Law, LLC
Steven L. Sugarman & Associates
Senator ($500)
Representative ($250)
Clemons Richter & Reiss, PC
Granor & Granor
Constituent ($100)
Austin Law Firm, LLC
Risk Management Matters
2022-2023 Community Association Supporters
$1000 or more
Birchwood Lakes Community Association
Hershey's Mill Community Association
Pocono Pines Community Associations
The Philadelphian 
$501 – $999
Morgandale Condominium Association
The Grande at Riverview Condominium 
Timber Trails Community Association
$251 – $500
Hemlock Farms Community Association

Highlands at Glenmoor Community Association
Indian Mountain Lake Civic Association 
Montgomery Greene
Montgomery Walk
Up to $250
1219 W Wynnewood Condo
2100 Bryn Mawr Place
Belmont Community Association
Four Seasons at Farmington

Glen at Tamiment POA

Marcel Lake Estates

Stony Creek Farms

Towamensing Trails Association
Villas of Lamplighter Village
as of 07.12.2023