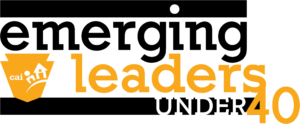 CAI Keystone's Emerging Leaders Under 40 celebrates the unique and passionate leadership of talented young leaders in the chapter, gives them a professional boost to increase their impact and recognizes them as the future leaders of the industry.
Inspiring Professional Leaders
Each year our honorees join a growing alumni network of inspiring professional leaders in the world of community associations and receive ongoing opportunities to network, grow professionally, and promote their achievements.
Honorees receive recognition in the annual class of Emerging Leaders Under 40, a $150 scholarship to be used towards CAI Keystone professional development programs, and an invitation to join the chapter Speakers Bureau and present at chapter programs.
The CAI Emerging Leaders Under 40 program is a project of the chapter's P.U.L.S.E Young Professionals Committee. The 2023 Inaugural Class of Emerging Leaders Under 40 will be recognized at the chapter's E2: Engage & Excel Member Experience Event on International Community Association Managers Day – June 13, 2023.
Before making a nomination please be sure to thoroughly read and understand the Eligibility Requirements and the Nominations, Qualifications and Judging information below.
Eligibility Requirements
Eligibility Requirements
Must be a member of the CAI Keystone Chapter at the time of their nomination.
Must be under 40 years of age as of December 31st in the year of their nomination.
Must have made significant achievements in their career in the previous year of their nomination.
Must have substantial involvement in community service outside of the performance of their day-to-day job.
In addition to the above, five extra points will be earned in the nomination scoring process for each of the following:
Nominee is a volunteer with the CAI Keystone Chapter.
Nominee has achieved any CAI professional designation or has earned the Board Leader Certificate.
Nominee has attended a minimum of 5 CAI Keystone events in the previous 12 months.
Nominations, Qualifications and Judging
Nominations
The Nominating period will open March 1st and close April 15th each year.
Nominees must be individuals, not organizations. Only one individual can be nominated per nomination. Nominations that include more than one individual will be disqualified.
Individuals can nominate multiple people using separate nominations.
You may nominate a member from your own organization, but these nominations count only if each nomination from your organization is matched by at least one nomination of someone outside your organization. If this requirement is not met, your nominee will be disqualified.
You do not need to be a member of CAI to make a nomination.
Self-nominations are encouraged.
Individuals who were previously nominated but did not win may be nominated again.
Nominations will only be accepted using the online nominating form on the CAI Keystone website.
Incomplete nominations will be disqualified.
 Nominations will be judged by an independent group of judges not affiliated with the CAI PULSE Committee. Judges may include three volunteers from the CAI Keystone Board of Directors, two chairs of other CAI Committees chosen by the board or staff and not affiliated with any nominee or member of the CAI PULSE Committee; and/or three members of other CAI Chapters' young professionals committees.
Multiple people from the same organization can be nominated. However, with the exception of community association management companies, only one nominee per organization will be selected for inclusion in the class of Emerging Leaders Under 40.