Community Associations Institute (CAI) is proud to celebrate International Community Association Managers Day today, June 13.
This day is dedicated to the more than 55,000 community association managers in the U.S. and thousands more worldwide. Community association managers are the professional backbone of the condominium communities and homeowners associations that they serve, providing the skills and expertise that are essential to successful operations and governance.
The Foundation for Community Association Research is proud to join CAI to celebrate this special day. Honor a manager in your life with a donation to the Foundation today. Thank you for recognizing and celebrating your community association managers!
Often a thankless job, why not take a moment today to thank a community association manager? Send your favorite manager an email or post your gratitude on social media using the following hashtags:

#intlcamday #icamd #communitymanagers #caikeystone #wearecai #caisocial #membership #appreciation #superstar #thankamanager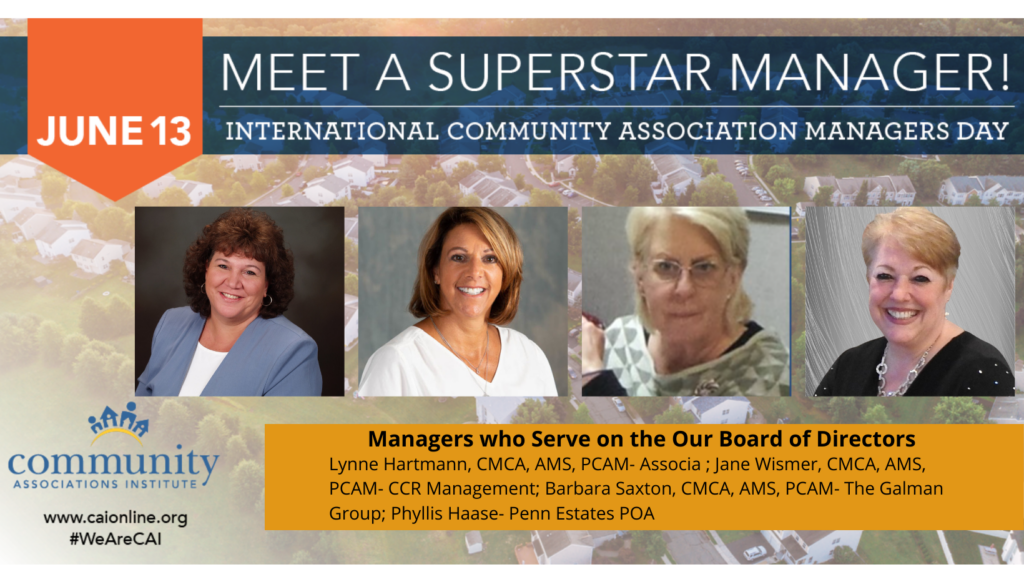 CAI Keystone is grateful to our member community managers!
names in bold are CAI Keystone volunteers
Mr. Jeffrey Krimstock CMCA, AMS • Ms. Barbara Smith • Ms. Priscilla Moreno • Mr. Michael Kelly • Mrs. Joy Jackson • Mr. Anthony Nardone CMCA, AMS, PCAM • Ms. Connie Calabrese • Ms. Jennifer Spangenberg CMCA, AMS, PCAM • Mr. Jack Boselli • Mr. Edward San George PCAM • Mr. Martin H. Laderman • Mr. Glen A. Masullo CMCA, PCAM • Ms. Liz Comando CMCA, PCAM • Mr. Carmen Mazzeo • Ms. Tonya Davenport CMCA, AMS, PCAM • Ms. Gayle A. Mayewski AMS • Mr. Barry T. Bauman CMCA, AMS • Mr. Lawrence Patrick Thomas PCAM • Ms. Tricie Kohut CMCA, AMS • Mr. Steven Y. Brumfield CMCA, AMS, PCAM • Mrs. Christine M. Gensey • Mr. Rinaldo A. Acri CMCA • Ms. Paula Santangelo CMCA, AMS, PCAM • Mr. Anthony J. Sorrentino CMCA, AMS • Mr. Christopher Maus CMCA • Mr. Augustus R. Rubbo CMCA, AMS • Mrs. Christy Williams • Mr. F. David Sylvester CMCA, AMS, PCAM • Ms. Janet Burgess • Ms. Rebecca Mason • Ms. Anne B. Macy • Mr. W. Ryan Neumyer • Ms. Janice Shearer • Ms. Lori Van Gorden • Ms. Bessy Vega • Mr. Robert M. Zito CMCA, AMS • Mr. Ian A. Wilson • John J Roedig • Mr. Michael Harden • Mrs. Caitlin Smith CMCA • Mr. Joe Franceschini • Mr. Anthony L. Orefice Jr. • Mrs. Marianne Torres CMCA, AMS • Mr. Brendon J.E. Carroll • Mrs. Christine Bertie • Mrs. Amy J. Janiszewski CMCA, AMS, PCAM • Ms. Kimberly Rice • Mrs. Donna Marie Faith CMCA, AMS • Mrs. Eileen Lukens • Mr. Robert Gillenberger Jr. • Mr. Robert H. Wise • Mr. Edward B. Shew CMCA, AMS, PCAM • Ms. Kathleen Mulholland • Ms. Crystal Diaz • Ms. Angela R White • Mrs. Pamela Williams CMCA, AMS, PCAM • Ms. Barbara Saxton CMCA, AMS, PCAM • Ms. Michelle Ott CMCA, AMS, PCAM • Ms. Julia Porter • Mr. G Scott Hicks • Miss Kara Leigh Alfonse • Ms. Lorrie Ann Allen • Mrs. Rebecca Anderson CMCA • Mrs. Elda Ellie Baho Slomine • Mr. Robert Bender • Mr. Neil Bresnahan CMCA, AMS, LSM, PCAM • Mr. Francis Gregory Ceneviva • Jenelle Cribari • Mr. Eric Eiden • Mr. John Falgie • Mr. David H. Fanning CMCA, AMS • Ms. Savannah Garcia CMCA, AMS • Mr. Edward R. Golob Jr. CMCA, PCAM • Ms. Kathleen Gorman CMCA, AMS, PCAM • Ms. Margaret Gottschau • Ms. Tracey Gray • Mr. Michael Anthony Guerra • Ms. Theron Hausman • Ms. Cicely Hendricks • Mr. Phillip Hobbs • Mr. David Ingegneri CMCA, AMS, PCAM • Mr. David Johns • Miss Christine Johnson • Miss Katelyn Jones • Mr. Paul Joslin • Ms. Mary Carroll King • Ms. Lauren N. Kissel CMCA, AMS • Mr. Richard Kuziomko CMCA, AMS, PCAM • Ms. Patricia A. Lamplugh CMCA, AMS, PCAM • Ms. Lori Lankford • Eileen Leggio • Mr. Scott Matthews Jr. • Mrs. Jessica McCann CMCA • Mr. Joseph Munizza • Ms. Joyce Newman • Ms. April Nickerson AMS • Ms. Martha Parker • Ms. Marisa Price • Ms. Christine A. Sherbine • Ms. Melissa Simmons • Mr. William R Temple III • Mr. Eugene Tick • Mrs. Danielle Trimmer • Mr. Eric Usbeck CMCA, AMS, PCAM • Ms. Dinelia Vazquez • Mrs. Michele Marie Venesevich • Mr. Ronald J White CMCA, AMS • Mr. William Robert White Jr. • Mr. Dillon J. Zeiler CMCA, AMS • Mr. Stefano Riela • Mr. Dwayne Taylor • Mr. Jason Cerkan • Ms. Cathleen M. Dunn CMCA, AMS, PCAM • Ms. Jane King • Mrs. Angela Keane • Ms. Tracy A. Bunsick • Ms. Kathleen Calello • Mrs. Theresa Ann Fadem AMS • Ms. Suzanne Kulliver • Ms. Alyssa Sentman • Ms. Rosa Maria Solis-Brophy • Ms. Tracy Blair CMCA, AMS, PCAM • Ms. Diane C Hall CMCA, AMS • Mr. Thomas Heckler CMCA • Ms. Cassie L Hudome-Ryan CMCA, AMS • Ms. Tinette Johnson • Mrs. Jennifer Karge CMCA • Mr. Roger Maciak • Miss Cassandra Middleton • Mrs. Victoria Mitten CMCA, AMS • Mrs. Shannon Ritzke CMCA, AMS • Danielle Stine • Ms. Jamie Kay Redden CMCA, AMS • Mr. James H. Ott CMCA, PCAM • Mr. Aaron Bertholf CMCA, AMS • Ms. Nicole Blazeski • Mr. John Byrne • Ms. Danielle Decker • Mrs. Shayna Leigh Delagram • Ms. Cheryl Gillen • Mr. Charles Hozempa • Mr. Joseph Rehm III • Ms. Jennifer Shearer • Mr. Jesse Stephan • Ms. Kerri Ann Perez • Ms. Karen Algayer • Ms. Shruthi Anantharaman • Ms. Samantha Barley • Ms. Michelle Burke • Mrs. Jennise Caleo • Mr. Brian Chambers CMCA, AMS • Ms. Kristine Clancy CMCA, AMS • Ms. Linda Marie Costello • Ms. Lesley Dawkins • Ms. Allison DeCamillis • Ms. Heather Marie Dombach • Ms. Jan Drayton • Ms. Deborah A Fioravanti • Ms. Gabrielle Gambone • Mrs. Jill Lorraine Geiger CMCA, AMS, PCAM • Mr. James David Gilliard • Ms. Joanne Granozio CMCA, AMS, PCAM • Mr. Daniel Patrick Hamill • Ms. Jenniffer Lynn Harrington CMCA • Ms. Lynne Hartmann CMCA, AMS, PCAM • Ms. Nancy S. Hastings CMCA, AMS, PCAM • Mr. Robert Hastings AMS, PCAM • Ms. Elena Hernandez • Mrs. Rebecca Hertzler CMCA, AMS, PCAM • Mr. Martin Hunt • Mrs. Jennifer L. Johnson CMCA, AMS • Ms. Meg Kitchin AMS, PCAM • Mrs. Kal Koutouzous • Ms. Denise Lawlor • Mr. Frank Levanti CMCA, AMS, PCAM • Ms. Tracey A. Lund CMCA, AMS • Mr. Alan McNulty CMCA, AMS • Ms. Marylynn Mendel • Ms. Marjo Miles • Ms. Melanie Moffatt • Ms. Kelly Morrissey • Ms. Mari Claire Nealon • Mr. Trey Oswalt • Ms. Christine Pagnotti • Ms. Julia Payton CMCA, AMS • Ms. Katherine Pristash • Ms. Sophia Eleanor Reeves • Ms. Devon Reid • Mrs. Carol Villei Richard CMCA, AMS, PCAM • Ms. Rosalie Rossi • Mrs. Tami Rutkowski CMCA, AMS, PCAM • Ms. Nancy Saunders CMCA • Mr. Thomas Scull • Ms. Lucinda Christine Simpson CMCA, AMS, PCAM • Ms. Cheron Sorensen • Mr. Gregory Stergin CMCA, AMS • Mrs. Michelle Stone CMCA • Ms. Jillian Marie Swann CMCA, AMS • Ms. Molly Tait • Ms. Marilyn Tarves CMCA • Mr. Alan S. Tate CMCA, AMS • Ms. Celia Traverse • Mrs. Christen Noel Voegele • Ms. Patti Walton CMCA, AMS • Ms. Christine Julian Wells • Mr. Stephen Ziegler • Ms. Jennifer M. Cassise CMCA • Ms. Nicole Goncalves • Mr. Sergio Raul Pulido • Mr. Michael Sarlo • Ms. Chelsea Tiso • Mr. Justin Williams • Mrs. Lauren M. Kirsch CMCA • Ms. Jacqueline Holden CMCA, AMS • Ms. Lisa Green CMCA, AMS • Miss Brooke Craven • Ms. Debra Tramantano • Mr. Raymond Carr CMCA • Mrs. Jenny Eisenhuth • Mr. John Kubala • Mr. Peter Jaggard • Mr. Kevin G. McGrath PCAM • Mrs. Cassandra Kemp Ellison • Mr. Ryan Lynch CMCA • Ms. Susan Giordano • Ms. Michele Lyn Sakulich • Mr. Michael Scorzelli • Ms. Carrie A. Ridner CMCA, AMS, PCAM • Ms. Amanda Mitchell Bublitz CMCA • Ms. Lisa J. Bushey CMCA, AMS • Ms. Valerie Sukolowsky • Ms. Jody L. Buchter AMS • Ms. Julia T. Robbins CMCA, AMS • Ms. Erica Alles CMCA, AMS, PCAM • Mr. Chris Baxter CMCA, AMS, PCAM • Mr. Jeff Bevan CMCA • Ms. Jessie Bisceglie CMCA • Mr. David Allen Brague CMCA • Mr. John Carr • Ms. Christine Castellano CMCA • Ms. Christina D'Annunzio CMCA, AMS • Mr. Frederick Deal CMCA • Ms. Kelly Ann Donnelly CMCA, AMS • Mrs. Nicole Erickson CMCA, AMS • Ms. Kathleen Farzetta CMCA, AMS • Ms. Amber Lee Gabel CMCA • Mr. Tom Groll • Ms. Sharon A Hearn CMCA • Mrs. Melissa A Herbert • Ms. Johanna Hertz CMCA, AMS • Ms. Suzanne Kersikoski CMCA • Mr. Peter L La Rosa • Mr. Desmond McDonnell CMCA, AMS • Ms. Jennifer Lynn McLaughlin CMCA • Mrs. Margaret M McLean CMCA, AMS • Mrs. Roseann McNeill • Mr. Brandon Meaux • Ms. Julia Mitchell • Mrs. Mary Ellen Patton CMCA, AMS • Ms. Cynthia Queen CMCA, AMS • Mr. Andre Rodriguez • Ms. Faith Rosa • Mrs. Fran Shoemaker CMCA • Ms. Heather M Washburn CMCA, AMS • Mrs. Barbara Weis CMCA, AMS • Ms. Laureen Young CMCA, AMS • Mrs. Rachael Taylor CMCA, AMS • Mr. Michael John Burns Jr. CMCA, AMS • Mrs. Colleen Granese • Mrs. Tammy M Harris CMCA • Mrs. Santina Ierardo CMCA • Ms. Robyn Kelley • Mrs. Ciearra Neidigh CMCA, AMS • Ms. Mackenzie Odhner • Ms. Christina Rossetti CMCA, AMS • Ms. Holly Elizabeth Stimmel CMCA, AMS • Ms. Jane Wismer CMCA, AMS, PCAM • Ms. Mary Ann Jamison CMCA • Ms. Carol McNeill • Ms. Karen Oglesby CMCA, AMS • Ms. Katy Logreco CMCA • Ms. Diane R. Clemons CMCA, AMS, PCAM • Mr. Daniel Bove CMCA • Mr. Ed Ferguson • Mr. Michael McNulty CMCA, AMS • Mr. Derrick Michael Rovira • Mr. Joseph C. Sunseri Jr. CMCA • Ms. Aimee Hennemuth CMCA, AMS • Mrs. Tamera L. Mersing CMCA, AMS • Mr. John Thomas Smathers III CMCA • Ms. Brenda Lee Marris • Ms. Vanessa Martins • Mrs. Lisa Rayca CMCA, AMS • Ms. Crystal L. Allen • Ms. Alice Mary Bucha • Mrs. Diane Gothard AMS, PCAM • Mr. Shawn Hall • Ms. Sarah Hash • Mr. Craig Holland CMCA • Ms. Eileen Kahn • Mrs. Jessica Metzger • Ms. Angela Oliver • Ms. Bernadette Reilly • Ms. Laura Santangelo • Mrs. Mary Sclafani • Mrs. Jessica L. Stropas CMCA • Ms. Nicole Davis • Mrs. Kathleen Wilson • Mr. Kyle Maloney • Mr. David Smith • Ms. Paula Perry CMCA, AMS, PCAM • Mr. Darryl Thomas Gamble • Mr. Kevin Daniel Bowes CMCA, AMS • Ms. Lee A Romano CMCA • Ms. Carol Oliveira • Ms. Jamie Angelo • Mr. Andrew C. Batshaw • Ms. Lisa Williams Belfiglio CMCA • Mr. David William Bianco • Mr. John J. Boselli CMCA, AMS, PCAM • Ms. Susan Burnham CMCA • Mrs. Robin J Cohen CMCA, AMS • Devlynn Deitrick • Ms. Patricia A DiFabio • Mr. Christopher Dillon • Mr. Mike Fareri • Mr. Francis Fittipoldi • Ms. Kimberly Gialanella CMCA, AMS • Mr. Michael Gillen • Ms. Laura Gronski • Mrs. AnnMarie Klemm CMCA • Mrs. Alanna Matthai CMCA • Ms. Yvonne Newman • Ms. Angela Nordstrom CMCA • Ms. Sally J. Norris CMCA • Ms. Lisa Plante • Mr. David Readinger • Mr. Joshua Michael Rozzi CMCA • Ms. Barbara B. Rufe • Ms. Michele M. Schellinger CMCA, AMS • Ms. Kathleen P. Schmitz CMCA, AMS • Mrs. Kenzie Alexis Sharpless CMCA • Mr. Timothy J. Snowden CMCA, AMS, PCAM • Mr. Eric C Staley • Mrs. Samantha Summers AMS • Mr. Andrew Sytnik CMCA • Mr. Neil Thomas • Ms. Jessica Walton CMCA, AMS • Mrs. Krista M. Welsch CMCA • Mr. Robert White CMCA, AMS • Mr. Scott Matthews Sr. CMCA, AMS • Mr. Robert A McLaughlin CMCA, AMS • Mr. Nicholas Dubovici CMCA • Mr. Robert O'Donnell CMCA, AMS • Ms. Marissa Johnson • Mr. Garrett S. Shames Esq. • Mr. Andrew Michael Lorah CMCA, AMS • Ms. Fran Cassidy Gavin • Mr. William Durando • Ms. Sara Maida • Mr. Michael Sibio CMCA, PCAM • Ms. Evelyn Blair • Ms. Aleasha Marie Monroe • Mrs. Meghan Yuhouse • Ms. Denise Adamic CMCA, AMS, PCAM • Mrs. Nancy H Miller CMCA • Ms. Holly Widdowson CMCA • Ms. Sarah Perry CMCA, AMS • Ms. Margaret Agnew CMCA • Mr. Tyler Balliet • Mr. Kevin Vitti • Mr. Paul William Mailliard • Mr. Harold J. Davis • Mr. David Morelli CMCA • Mr. Keith Kassees CMCA • Mrs. Tina M Williams • Mr. Michael Krupa CMCA • Mrs. Wendi Sue Freeman • Mr. Robert Jones • Mr. Jeff Kirkpatrick • Mr. Jeffrey M. Evans LSM, PCAM • Ms. April Cressman • Ms. Jennie Elizabeth Mancuso • Ms. Kelli Myers • Mr. Thomas Thompson • Ms. Gina DeFrancisco • Ms. Beverly Dworek • Ms. Marilyn Lalley • Ms. Maria Lindsey CMCA, AMS • Mr. Reeves C. Miller • Ms. Virginia Fish • Ms. Karen Williams CMCA, AMS • Ms. Rebecca Senft • Mrs. Jody Taglianetti-Serrao CMCA • Ms. Sabine Liedel CMCA • Mrs. Claire Alexandria Emala • Ms. Barbara J. Castellotti • Miss Dana Castellotti CMCA • Mr. Matthew A. Chupalio CMCA, AMS, PCAM • Craig Coffman • Mr. Steve Erney CMCA, AMS • Donald Franceschini • Ms. Jillian Gledhill • Ms. Krista Kautz CMCA • Ms. Jacqueline Spenser Mitchell • Ms. Tabitha Palmer CMCA • Ms. Valerie S. Pyle CMCA, AMS • Mrs. Kathleen D. Rabatin CMCA • Ms. Maria Elena Solis CMCA, AMS, PCAM • Ms. Susan St. Germain • Mr. Ronald White • Mr. Joseph Boggs • Mr. Raymond Diebel • Mr. Michael Blouch • Ms. Phyllis Haase • Miss Caitlin Lyons • Mr. Dave Timko CMCA, AMS • Ms. Eileen-Katrina Weithman • Mrs. Laura M. Jones CMCA • Mr. Daniel T. Dougherty Jr. CMCA, AMS • Ms. April Bagnick • Ms. Laura Gonzalez CMCA, AMS, PCAM • Mr. Brad Jones CMCA, AMS, PCAM • Ms. Victoria Mann • Ms. Yvonne Teta • Mr. Gary van Niekerk CMCA, AMS • Ms. Barbara Allyson Ball • Ms. Antoinette Black • Ms. Larkee M Goodwin • Mrs. Breanna Lecadre • Ms. Jeanie Reyes • Mrs. Carey Twigg CMCA • Ms. Elly Fretz • Ms. Elizabeth Ashdale-LaMent • Ms. AnnMarie Fahringer • Mrs. Maureen S. Forte • Mr. Dave S Gorham • Mrs. Kelly Casey Lukens-Ruiz • Mrs. Judy B. Osborne CMCA • Ms. Rita M McHale AMS • Ms. Tina Sizer • Ms. Donna M. Wise • Mr. Samuel Newman CMCA • Mirian Stamm • Mrs. Martha L Almanza • Mr. Brian Clark • Mr. Nicolas Hutta • Mrs. Jessica Marie VanDerVliet • Ms. Melanie Voiles • Mr. Michael Raymond O'Shea • Ms. Susan Lee Moran CMCA • Mr. Mark F. Kuhn CMCA, AMS, PCAM • Mr. Brett Scioli • Ms. Ann Paul • Mr. Mark A. Dennis CMCA, AMS • Ms. Lynelle Roth • Miss Janet M Derrick CMCA, AMS • Mrs. Kelly Anne DiPaolo CMCA, AMS • Miss Miranda Milner • Ms. Amanda Brake • Ms. Dana Tyler • Mrs. Nancy Hunziker CMCA • Ms. Carri L. Alper • Mrs. Danielle M. Holmes CMCA, AMS • Ms. Celia Kirkley • Mrs. Luz Alcazar • Ms. Heather A. Cameron CMCA • Mr. Mark D. Hindman CMCA, AMS, PCAM • Ms. AnnMarie Miller • Mr. Franklin Boyer Jr. CMCA • Mr. Christopher Marone • Mrs. Brandi Rossi • Mr. Marc Levinson AMS • Mr. Malcolm Ferguson • Mr. Thomas Mclaughlin • Ms. Carol L. Ramsey CMCA, AMS • Mrs. Nadine Buehler CMCA • Mrs. Ellen Kasman CMCA • Mrs. Cynthia Brandt CMCA • Ms. Miriam R. Cordero • Mr. Ed Clark • Ms. Olivia A. de Cheubell • Mr. John Carney CMCA, AMS, PCAM • Ms. Lisa P Medzarentz CMCA, PCAM • Mrs. Elizabeth U. Thurston • Ms. Jill A Odynsky CMCA, AMS • Ms. Kelli Grim • Mrs. Ryn Miller •