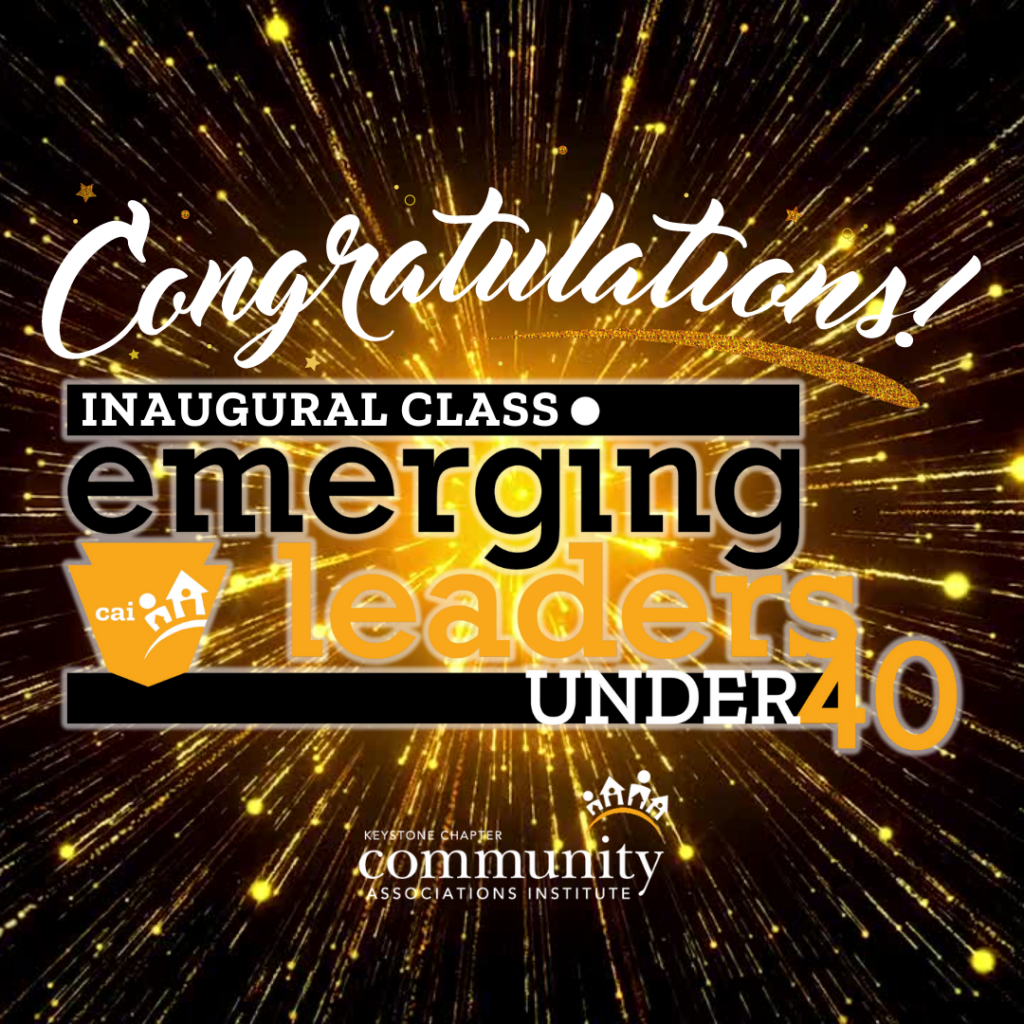 CAI Keystone's Emerging Leaders Under 40 celebrates the unique and passionate leadership of talented young leaders in the chapter, gives them a professional boost to increase their impact and recognizes them as the future leaders of the industry. Each year our honorees join a growing alumni network of inspiring professional leaders in the world of community associations and receive ongoing opportunities to network, grow professionally, and promote their achievements.
Honorees receive recognition in the annual class of Emerging Leaders Under 40, a $150 scholarship to be used towards CAI Keystone professional development programs, and an invitation to join the chapter Speakers Bureau and present at chapter programs.
Nominations were reviewed and scored by an independent panel of judges not affiliated with CAI's P.U.L.S.E. Committee. Honorees were deemed to have met or exceeded the Emerging Leaders Under 40 qualifications. For a complete list of qualification criteria, please click here.
Congratulations to these CAI Keystone members who represent the inaugural Emerging Leaders Under 40 class presented by Hyland Levin Shapiro, LLP:




Courtney Dickinson-Mukamuri, EBP
Eiseman Construction
James D. Doyle, Esq.
Gawthrop Greenwood, PC
Megan Elgard, EBP
The Falcon Group
Kara Guerra, EBP
SERVPRO Team McCabe
Sarah Hash
Danella Realty & Management
Lauren Kissel, CMCA, AMS
CAMCO Management Co., Inc., AAMC
Jack Kopko, EBP
Roof Maxx of Delaware
Tyler Logar
JBCI Engineers
Scott Matthews, Jr.
The Glen at Tamiment POA
Cindy Queen, CMCA, AMS
CAMCO Management Co., Inc., AAMC
Julia Robbins, CMCA, AMS
CAMCO Management Co., Inc., AAMC
Jessica Stropas, CMCA
Associa Mid-Atlantic, AAMC
David Velasco, EBP
JGS Insurance, A Baldwin Risk Partner
Michael Vennitti, EBP
Fresh Foam
Josephine Lee Wolf, Esq.
Clemons Richter & Reiss, P.C.
CAI Keystone's Emerging Leaders Under 40 program is a project of the chapter's P.U.L.S.E. Young Professionals Committee. The inaugural class of Emerging Leaders Under 40 will be recognized at the chapter's Engage & Excel Member Experience Event on International Community Association Managers Day on June 13, 2023. The event will be held at Victory Beer Hall at Xfinity Live in Philadelphia, PA. CLICK HERE for more information and to register.