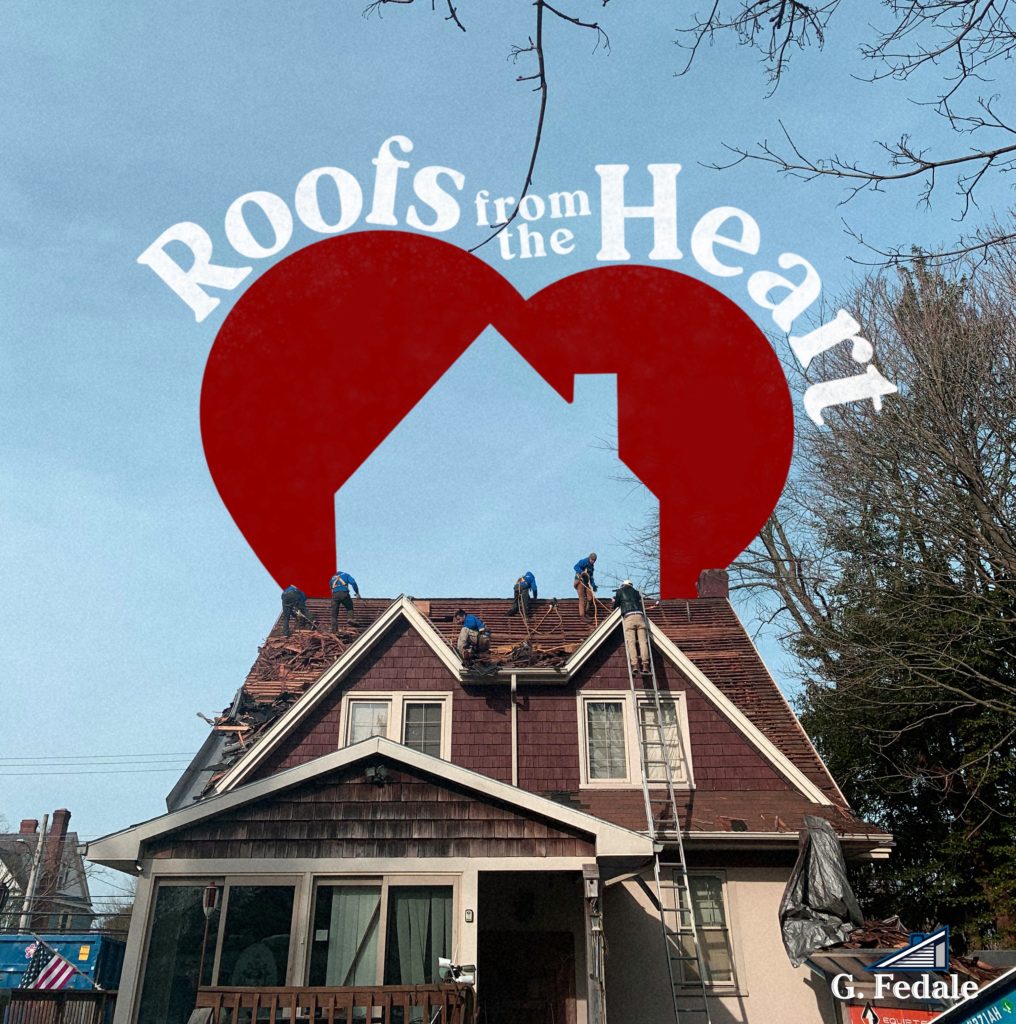 For the past several years, Keystone CAI's board of directors has selected a charity that the chapter will support for the calendar year. A portion of the proceeds from certain chapter events are donated to the chapter's charity partner, and the chapter will promote the charity and ways to donate to them throughout the year. Keystone CAI is proud to announce that our 2022 charitable partner is Roofs from the Heart.
A few years ago, the leaders at G. Fedale Roofing & Siding, one of the region's leading roofing and siding companies and a Keystone Chapter CAI Member, decided to find a way to give back to the communities that have so strongly supported them over the years. With offices in Lewes and Newport, Delaware, Glenn Mills and North Wales, Pennsylvania, they enjoy a wide reach of neighborhoods. Three out of four of their locations are in reasonably close proximity to the Greater Philadelphia area, a location composed several of the poorest and most run-down communities in the United States.
Beginning in 2018, the company began running Facebook campaigns designed to help them find people who had in some way been negatively impacted and who needed roof repair. People were encouraged to nominate others they knew and ultimately, some were chosen to receive the repairs and/or new roofs. Most of the nominees had found themselves in disproportionately difficult situations due to loss of job, debilitating illness, age, and other negative impacts. Winners were chosen based on their stories and the number of "likes" they received on Facebook.
"It's a much bigger issue than just the physical outcome of providing a new roof," commented Glenn Fedale, Sr., Director of Foundation Relations and roof project point person. "A leaking roof can lead to water damage and mold, but more than that, it's embarrassing. Kids no longer want to invite friends over and many adults become sort of reclusive because they don't want anyone to see the mess. It just makes people feel bad."
Responses from roof recipients have been amazing as lives have been impacted in such a positive way. Evelyn, age 82 and living with multiple sclerosis, was the 2019 recipient of a new roof. She was nominated by her grandson who wrote, "If anyone is deserving of such an award it is her. Without this contest, she will most likely never be able to make it happen on her own."
The charity's 2021 winner, Elnora, wrote a thank you note expressing her gratitude. "On Good Friday, April 2nd, I received a blessing from God and G. Fedale Roofing Company… I am so grateful for what you have done for me. My roof has been leaking for many years and was only getting worse… I have been praying for help for quite a while and the Lord answered my prayer…"
After a few years of 2 – 3 roofs per year and after hearing the stories of what a wonderful difference has been made in the lives of people, G. Fedale Roofing & Siding has chosen to take this effort to the next level. "This is the perfect effort for us because it's in our lane," remarked Glenn, Sr. "We have access to good materials – not leftovers or the cheapest available – which will help these roofs to last longer. And we have the manpower within our company to do the work."
G. Fedale's goal is to complete 7 – 10 roofs in 2022 and, perhaps, 15 – 20 in 2023. They are targeting people in need within a 50-mile radius of any of the company's 4 locations. Have a person you would like to nominate for a roof repair or new roof? The process to nominate contestants is easy. Simply click here to nominate yourself or someone else online. Contestants are asked to submit photos of their roof and documentation of their situation or story. To learn more about "Roofs for the Heart" and explore how you can help, please call Glenn Fedale, Sr., at 302.287.0239.
Donate to Roofs from the Heart
Follow these instructions and access information to make a donation to the Roofs from the Heart Fund. These donations will help support our mission to provide free roofs to those in need within the low-income housing communities of Southeastern PA, Delaware and South Jersey.
Donations can be made either by mailing a check or donating online.
By Check- make out to our Partner – Delaware Community Foundation and note in the check memo line: For Roofs from The Heart. Mail check to DCF, PO Box 1636, Wilmington, DE 19899
Donate Online. Click the donate button below and follow instructions. In the Comments Box shown on the page, put Keystone CAI Member so we can track donations from members.  If the Donation is from a business rather than an individual, write "donation from (company name)" in the comments box as well.