[Sponsor Content]
Name of company: SERVPRO of Upper Bucks, Germantown, Pennypack/Bustleton
Principal of company: Sean McCabe / Mike McGrory 
Year company was founded: 2001
States in which your company operates: Pennsylvania, New Jersey, Delaware
Company Narrative:
At SERVPRO® of Upper Bucks, Germantown, and Pennypack/Bustleton we pride ourselves not only on providing our Community Associations with the highest quality services but also as active members and allies to our community managers. We aim to leave meaningful impacts on both the local business and in our communities. SERVPRO® has highly trained restoration specialists available locally to best serve your needs if you find yourself faced with an emergency.
Our nationally recognized name provides our local franchise with access to many tools, materials and educational programs, but what defines this franchise, specifically, are the owners, staff and crew members behind it. 
24-Hour Emergency Service
Faster to Any Size Disaster
Highly Trained Restoration Technicians
A Trusted Leader in the Restoration Industry
Locally Owned and Operated
Advanced Restoration and Cleaning Equipment
In addition, the owners and employees of SERVPRO® are dedicated to supporting community initiatives revolving around community beautification, emergency preparedness, and disaster planning. In conjunction with our sister company, FOCUS Safety Training, we bring valuable education to community managers with CAMIC-B approved courses throughout the year. We have a "roll-up our sleeves" and dive-in attitude!  Our team will volunteer, give back, support, and provide services or tangible goods that have long-term positive impact on society. We sit on many boards, foundations, and committees ranging from national statute to local little leagues. Just like "there's no job too big, or too small for SERVPRO®", there's also no cause too big, or too small for us to support.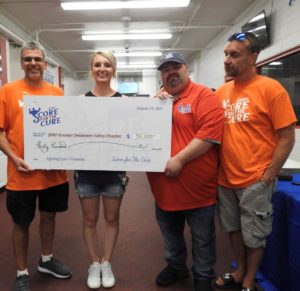 Brag About It: Also new in 2021 was SERVPRO® ownership's involvement in creating and hosting, "Score for the Cure", an ice hockey tournament to raise money for JDRF (Juvenile Diabetes Research Foundation). The tournament also included a 5K race, family fun activities, delicious food, live music, and more. The group, composed of many CAI affiliates and members, became a 501c3 is led by co-owner, Sean McCabe. SERVPRO® provided staff, resources, and food for the event.  The event grossed $40,000 during this inaugural year and brought together the very best of the best in the community association world.  We are proud to be a part of this incredible organization. 
Our commitment is growing with CAI Keystone, Sean McCabe has been elected to the Board of Directors; Marketing Director Robyn Colajezzi chairs the Communications and Content Committee; and new to SERVPRO®, Heather Young will sit on the PULSE Committee in 2022.