Community Associations Institute is pleased to launch the first of our new Keystone Connect Online Forums. 
These forums are designed to provide members with an opportunity to ask questions, share knowledge and best practices and connect with colleagues on a local level.
Follow the simple three step process described below to subscribe to the Keystone Members Community Forum or the High Rise Buildings Community Forum. Additional forums may be added later.
Please note – in lieu of the steps below, CAI staff can subscribe you to any member forum. Feel free to reach out to the staff if you would like a staff member to subscribe you to a member forum.
1. Click the Login link on chapter homepage.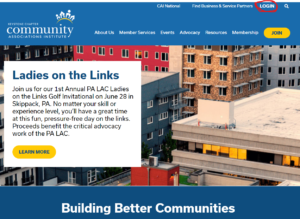 After clicking the login link, you will be on the Welcome Members page. Enter your login credentials from this page and login to the website.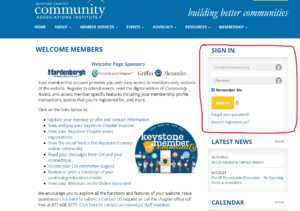 2. From the main Member Community page, click on the Quick Links menu item, then click Member Forums.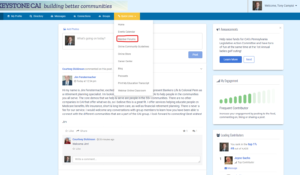 3. Click on the forum(s) you wish to subscribe to and under "Forum Actions" on the right side, click "Subscribe to Instant Updates." After subscribing, you will receive an email every time a new topic is posted in the forum. To change this setting and just receive a daily digest email of activity in each forum you subscribe to, read more below.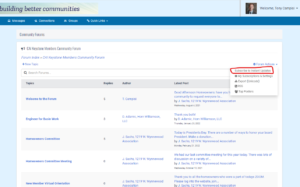 4. To change the email settings so you only receive a daily digest email of activity in your forum, click on the drop down menu under your name in the upper right. Then, click on Account Settings.

5. Click on Information & Settings.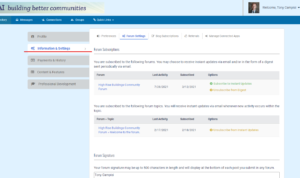 6. On the Forum Settings tab, click Unsubscribe from Instant Updates for any Forum for which you only wish to receive a daily email digest, and then click Subscribe to Digest.  This step will enable you to receive digest emails of activity in any forum you wish to subscribe to. Be sure to click the Save My Settings button.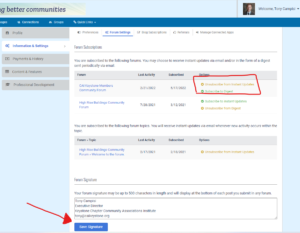 Be sure to visit your Forum often to post questions and share information with fellow members.