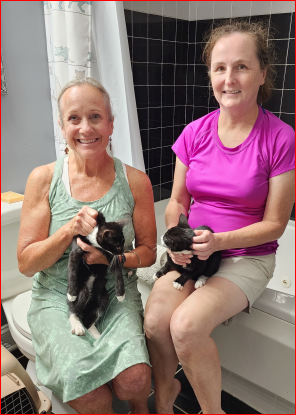 EDITOR'S NOTE: This article was submitted by Marianne Natali, a Council Member and Cat Team member at Morgandale Condominium in Lansdale, Pennsylvania.
I live in a condominium in the Morgandale community, which consists of 560 homes, located in the Philadelphia suburbs, Lansdale, PA.
On a late Spring morning in 2022, I was walking my dog Coco when she began fussing at the bike shed at the top of our court. A calico cat came out hissing and I noticed two or three kittens scurrying about. I removed Coco from the scene as to not upset the mother and kittens. I later returned alone to check it out with my key to the shed. I did not see them this time, but clearly someone else had seen them; there was cat food and water in the shed. Around the same time a resident of the same court notified management of the mother and kittens. We soon realized there were five kittens.
We have multiple volunteer committees in our community, one includes a Pet Committee. Management reached out to the Pet Committee chair for help.
The community has an organized, all volunteer, council, which has open monthly meetings, for which I am a member. The subject of the cats was on the June agenda for discussion. The community's rules and regulations state that no pets are permitted to roam freely. The Pet Committee explained the difference between domestic, stray, abandoned, and feral cats. My explanation included that most feral cats have never had close human contact; therefore, are difficult to be socialized. Stray and abandoned cats over time can be come feral if left to fend for themselves. I also explained that feral cats have their place in the ecosystem, just as the fox, deer, racoon, and other critters who live in our wooded areas. The goal was to provide good outcomes for the cats and prevent the community from becoming overrun.
I explained TNVR (trap, neuter, vaccinate, release) to the Morgandale Council. The council agreed to have someone from a cat rescue come and speak at the next meeting. The Pet Committee chair was able to get a representative from Stray Cat Blues (SCB), a Best Friends partner, to agree to speak at our next meeting in July. We reached out to the community and formed a separate Cat Team within the Pet Committee, with five volunteers, dedicated to saving the cats. We met with the SCB representative and formulated a plan to trap the mother and kittens.
Katie, a rep from SCB, came to our July community meeting and did a very convincing talk on benefits of the TNVR program for cats and communities alike. In August, the team was given approval from Council to proceed.
The Cat Team agreed to TNVR the mama, and have the kittens adopted. We were delighted that one of our Cat team volunteers was a vet and had some trapping experience. As for the rest of us, no one had ever trapped before, and the Pet Committee chair was allergic to cats. Little did we know we would end up saving seven cat lives!
Now the real fun began. Katie explained the trapping process, so we obtained three humane traps. The team then decided we would trap Labor Day weekend. We basically knew where the cats had been spotted and set traps accordingly. We set the traps on Friday night and monitored them until after midnight.
We made mistakes. One example was the food was gone from the trap but no cat, we had not secured the back of the trap properly. We also trapped a very unhappy racoon, which our vet team member released; she is vaccinated for rabies. His only interest was getting away from us. We repeated the process Saturday and Sunday.
By Monday, we were exhausted and discouraged, and had captured none of the cats. We met to discuss our next steps. We decided to take a trap and monitor at our own convenience. I walked home from that meeting and to my unbelieving eyes, in the wooded area behind my house was the Momma and the two tuxedo kittens. I put out some yummy food to hold them there, notified the team, and we sprung into action. Within a few hours we were able to trap Momma and the two kittens, a trifecta!
Over the next week or so we trapped two more kittens, the alleged father, and another intact male which was most likely from a previous litter. Unfortunately, we never located the fifth kitten and hope someone took her in. The parent cats were also taken for TNVR. Two kittens were adopted immediately by community members and two were placed in foster care, also by a community member. After a few snags, the last two kittens were adopted together.
All the cats were named for streets within the Morgandale Community, near where they were trapped. The older male was named for his caregiver.
Mama – Morganberry (for Morgandale Drive and Mulberry Court)
Poppa – Dale (for Morgandale Drive)
The two tuxedos Nash and Monty (for Nashmont Court)
The orange tabby and calico Winnie (Winfield Court) and Penn (Pennland Court).
Rob, the older male (Rita's orange boy)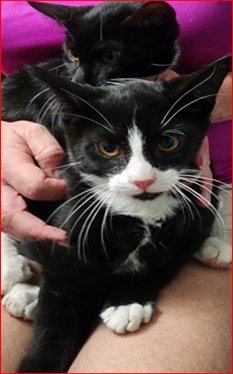 This community truly has a love for cats and animals as many were instrumental in helping with this rescue, we could not have done this without them. Our vet team member started the vaccination process and the kittens got a pedicure, for which we are grateful. We still see our feral cats protecting their territory. Morganberry looks very healthy since being spayed and no kittens were found this Spring.
We are proud that we, as a community working together, for the love of animals, were able to save seven cat lives.
ABOUT THE AUTHOR
Marianne Natali is a member of Morgandale Condominium's Council and serves on the Cat Team, a subcommittee of of the Pet Committee.