Robyn Colajezzi
SERVPRO of Upper Bucks, Germantown, Pennypack / Bustleton 
Festive celebrations, flickering lights and winter greens are hallmarks of the holiday season, but they also present fire risks that can quickly turn this festive time of year into a devastating one. SERVPRO® works to educate the public about potential fire risks during the holidays, offering tip sheets, videos, and other resources to help everyone safely enjoy the season. 
In a year when large holiday gatherings may not be possible, a focus on family decorating traditions and more intimate celebrations may take on extra significance. It's as important to keep safety top of mind with a small family gathering as it is with a large holiday party 
A fire is one of the most devastating disasters that can strike any structure at any time.  Prevention is the key to minimizing damage and saving lives. 
In 2018, there were 1,345,500 fires reported in the United States. These fires caused 3,280 civilian deaths, 1,5700 civilian injuries, and $14.3 billion in  property damage.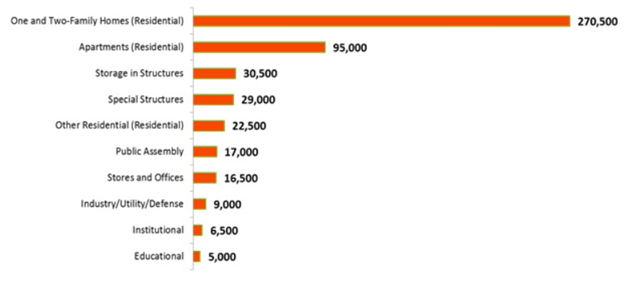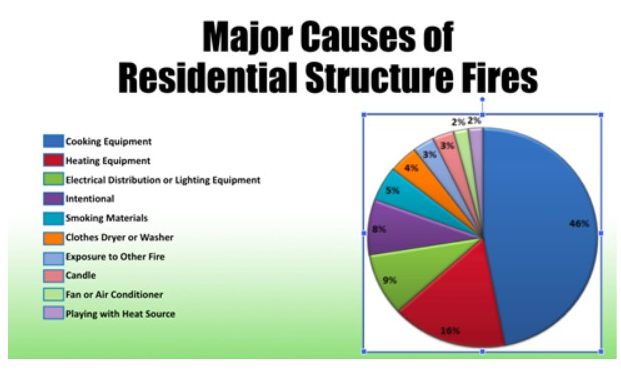 We all enjoy bringing the glow of the holiday season to our homes with Christmas trees or menorahs and candlelight, but these statistics from the U.S. Fire Administration show how easy it is for home decorating to turn into a home disaster. 
Holiday Fire Statistics
The top three days for home candle fires are Christmas Day, New Year's Day and New Year's Eve. More than half of the home decoration fires in December are started by candles. A heat source too close to the Christmas tree causes one in every four winter fires. On average, one of every 52 reported home Christmas tree fires resulted in death. 
Christmas Trees
As you deck the halls this holiday season, be fire smart. A small fire that spreads to a Christmas tree can grow large very quickly. According to the National Fire Protection Association, electrical distribution or lighting equipment was involved in 44% of home Christmas tree fires. Though Christmas tree fires may not be common, they can be devastating to more than the house itself. They can destroy irreplaceable photos, mementos, and family heirlooms and even cost lives.  
Some Tips to Keep Your Spirits, Not Your House, Aglow
Never leave a burning candle unattended. Consider using battery-operated flameless candles. 
Never place a burning candle anywhere near a Christmas tree. 
Keep your live Christmas tree away from heat sources and room exits. 
Water your live Christmas tree daily to keep it from becoming dry. 
Only use decorations that are flame-retardant or not flammable.  
Always make sure the lights are labeled "UL" or "FM," meaning they've met current safety requirements. 
Check holiday lights each year for frayed wires or excessive wear.  
Don't link more than three strands of holiday lights.  
For metallic tree, only use remote spot or reflective lights, not electric lights. 
Replace any string of lights with worn or broken cords or loose bulb connections.  
Use clips, not nails, to hang lights so the cords do not get damaged. 
Discard old electrical decorations and lights that don't comply with current electrical safety codes.Make sure to throw out your Christmas tree once Christmas is over or when it is dry. 
Check with your local community to find a recycling program.  
Bring outdoor electrical lights inside after the holidays to prevent hazards and make them last longer 
Replace old lights after a few years. 
Candles
To help keep your holidays bright and your home and family safe, use common sense with candles and tree placement, and follow these important home decorating guidelines:
Blow out all candles when you leave the room or go to bed. 
Avoid the use of candles in the bedroom and other areas where people may fall asleep. 
Keep candles at least 1 foot away from anything that can burn and at least 3 inches away from other candles. 
Keep candles out of the reach of children or pets. 
On first light, burn the candle at least 2 hours to form a nice melt pool under the flame. 
Trim wick before every new light. 
Discontinue burning when wax is 2" or lower. 
Use candle holders that are sturdy, and won't tip over easily.  
Put candle holders on a sturdy, uncluttered surface 
Light candles carefully. Keep your hair and any loose clothing away from the flame 
Don't burn a candle all the way down — put it out before it gets too close to the holder or container 
Never use a candle if oxygen is used in the home 
Have flashlights and battery-powered lighting ready to use during a power outage. Never use candles 
From  2014-2018, U.S. fire departments responded to an estimated 7,610  home structure fires that were started by candles per year. More than one-third of home candle fires started in the bedroom. Three of every five candle fires start when things that can burn are too close to the candle. 
81  deaths 
677  injuries 
$278 million in direct property damage 
Holiday Gatherings
Test your smoke alarms and tell guests about your home fire escape plan 
Keep children and pets away from lit candles 
Keep matches and lighters up high in a locked cabinet 
Stay in the kitchen when cooking on the stovetop 
Ask smokers to smoke outside. Remind smokers to keep their smoking materials with them so young children do not touch them 
Provide large, deep ashtrays for smokers. Wet cigarette butts with water before discarding. 
Cooking Safety
Each year, from 2016 to 2018, fire departments in the United States responded to an estimated average of 189,300 cooking fires in residential buildings. 
170 deaths 
3,300 injuries 
443 million in property loss 
What you should know about home cooking safety 
Be on alert! If you are sleepy or have consumed alcohol, don't use the stove or stovetop. Stay in the kitchen while you are frying, grilling, boiling, or broiling food. If you are simmering, baking, or roasting food, check it regularly, remain in the kitchen while food is cooking, and use a timer to remind you that you are cooking. Keep anything that can catch fire — oven mitts, wooden utensils, food packaging, towels or curtains — away from your stovetop. Turn handles inward to prevent accidental bumping or pulling by a child.
If you have a cooking fire 
Just get out! When you leave, close the door behind you to help contain the fire. 
Call 9-1-1 or the local emergency number after you leave. 
If you try to fight the fire, be sure others are getting out and you have a clear way out. 
Keep a lid nearby when you're cooking to smother small grease fires. Smother the fire by sliding the lid over the pan and turn off the stovetop. Leave the pan covered until it is completely cooled. 
For an oven fire, turn off the heat and keep the door closed. 
Safety Considerations for Cooking with Oil 
Always stay in the kitchen when frying on the stovetop. 
Keep an eye on what you fry. If you see wisps of smoke or the oil smells, immediately turn off the burner and/or carefully remove the pan from the burner. Smoke is a danger sign that the oil is too hot. 
Heat the oil slowly to the temperature you need for frying or sautéing. 
Add food gently to the pot or pan so the oil does not splatter. 
Always cook with a lid beside your pan. If you have a fire, slide the lid over the pan and turn off the burner. Do not remove the cover because the fire could start again. Let the pan cool for a long time. Never throw water on the fire. 
If the fire does not go out or you don't feel comfortable sliding a lid over the pan, get everyone out of your home. Call the fire department from outside. 
Based on 2014-2018 annual averages: 
Cooking equipment is the leading cause of home* fires and fire injuries, causing 49% of home fires that resulted in 21% of the home fire deaths and 44% of the injuries. 
Two-thirds (66%) of home cooking fires start with the ignition of food or other cooking materials. 
Clothing is the item first ignited in less than 1% of these fires, but clothing ignitions lead to 8% of the home cooking equipment fire deaths. 
Ranges or cooktops account for three-fifths (61%) of home cooking fire incidents. 
Unattended equipment is a factor in one-third (31%) of reported home cooking fires and over half (53%) of the associated deaths. 
Frying dominates the cooking fire problem. 
Thanksgiving is the peak day for home cooking fires, followed by Christmas Day, the day before Thanksgiving, Easter, and Christmas Eve. 
Carbon Monoxide
REMEMBER to have a carbon monoxide detector installed and confirm it is in proper working order. Often called the invisible killer, carbon monoxide (CO) is an odorless, colorless gas created when fuels such as gasoline, wood, coal, propane, etc. do not burn completely. In the home, heating and cooking equipment that burn fuel are potential sources of CO. Carbon monoxide incidents are more common during the winter months, and in residential properties. 
Heating Safety
There is something about the winter months and curling up with a good book by the fireplace. But did you know that heating equipment is one of the leading causes of home fire deaths? With a few simple safety tips and precautions you can prevent most heating fires from happening. 
Keep anything that can burn at least three-feet (one metre) away from heating equipment, like the furnace, fireplace, wood stove, or portable space heater 
Have a three-foot (one metre) "kid-free zone" around open fires and space heaters 
Never use your oven to heat your home 
Have a qualified professional install stationary space heating equipment, water heaters or central heating equipment according to the local codes and manufacturer's instructions.  
Have heating equipment and chimneys cleaned and inspected every year by a qualified professional 
Remember to turn portable heaters off when leaving the room or going to bed 
Always use the right kind of fuel, specified by the manufacturer, for fuel burning space heaters 
Make sure the fireplace has a sturdy screen to stop sparks from flying into the room. Ashes should be cool before putting them in a metal container. Keep the container a safe distance away from your home 
Test smoke alarms at least once a month. 
Emergency Response Plan – Fire
Everyone is at risk of fire 
Inventory Check 
Smoke Detectors 
Fire Extinguishers 
Get an insurance check-up 
Have and COMMUNICATE a plan 
Meeting place 
Conduct Fire Drills 
Update and post evacuation maps 
Keep all exits and doorways free from obstructions 
Check in with your local fire department 
Check in with your local restoration company 
Keeping these important fire safety tips in mind can help ensure that your holiday season is merry and bright! 
About the Author
Robyn Colajezzi is Director of Marketing and Business Development at SERVPRO of Upper Bucks, Pennypack/Bustleton, and Germantown and has 20 years experience as a marketing professional in the Philadelphia and Mid-Atlantic region. Robyn holds a BA from Kutztown University. Robyn is a CAI Educated Business Partner and currently serves as Chairwoman for CAI's Communications & Content Committee. She can be contacted via e-mail at: robyn@148response.com. 
About Servpro of Upper Bucks, Germantown & Pennypack / Bustleton
At SERVPRO of Upper Bucks, we pride ourselves not only on providing the residents of Upper Bucks County with the highest quality services but also as active members of our community. We aim to leave meaningful impacts in both the local business world and in our community. SERVPRO of Upper Bucks has highly trained restoration specialists that are local to be able to best serve your needs if you find yourself faced with an emergency. Learn more by visiting us at: www.servproupperbucks.com.