On Demand Webinar Catalog
All Keystone Chapter Webinars are
Free

for Homeowner Members of the Chapter

The digital learning programs below are available for viewing at your convenience. Once you complete the registration process, you will have 60 days access to the online program. Managers receive continuing education credit for each program. Once you have viewed the digital learning program and completed the survey, you will see instructions on how to receive your continuing education credit and certificate.
On Demand Course Collections
CAI Keystone now offers on demand course collections in various topic areas.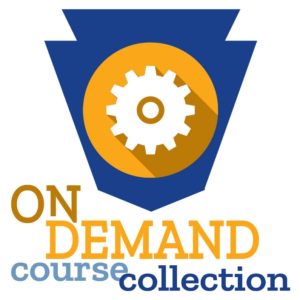 These course collections include three on demand webinars under the following topic areas:
Board Governance
Contemporary Issues
Financial Issues
Insurance & Risk Management
Legal Issues for Beginners
Meetings & Elections
The course collections are discounted from the regular, single on demand webinar price. Save money by registering for a course collection and get your continuing education credits.

Every chapter on demand learning program is approved by the Community Association Managers International Certification Board (CAMICB) to fulfill continuing education requirements for the CMCA® certification. Click on the headings below for a sample of course titles. 
You must be logged in first before the Online Classroom link below will work correctly.
On Demand Courses A-G
Alternate Dispute Resolution for New Jersey Community Associations
Are We At Fault? Liability in a Post Coronavirus World
Assessments: How to Proactively Handle Collections to Obtain Maximum Recovery
Beyond Routine Maintenance: Roadmap to a Successful Building Envelope Restoration Program
Bids & Contracts: How to find the Right Professional
Board Governance Issues: How to Protect the Board and Association From Liability
Budgeting for Associations
Buy the Green Bananas: Invest in Your Community's Future
Board Member Ethics & Conflicts of Interest   
CAI Town Hall: Re-Opening After Covid-19
Choosing Legal Counsel & Other Professionals
Communicating in a Crisis: People, Properties & Peace of Mind
Coronavirus Q&A: The Financial Impact of Covid-19 on Community Associations
Coronavirus Q&A: A Legal Perspective
Covid Q&A: The New Normal for Facilities Maintenance
Covid Q&A: Creating a Community Budget
Creating a Board Orientation Program
Critical Elements of the Resale Disclosure Process 
Cyber Slip & Falls: Community Associations and Cyber Exposures
Dam Safety & Emergency Management for Planned Communities
Dos & Don'ts of Due Process: Ways to Strengthen Your Internal Enforcement Proceedings 
Effective Decision Making
Elements of Contract Review
Ethics in Collections & Bankruptcy
Exterior Maintenance: Assessing, Planning, Executing
Fiduciary Duty: Obligations of Community Association Volunteers
Getting to Yes Before Getting the Subpoena: Obligations of Community Association Volunteers
Get It Together: The Logistics of Project Management
Go Green to Save Green
On Demand Courses H-Z
Interpreting Your Reserve Study and How to Fund It
Is Social Media Driving Your Agenda?
It Wasn't Raining When Noah Built the Ark: How a Pandemic Reminded us that Preparedness is the Key to Recovery
Knowledge is Power: Periodic Facade Maintenance
Property & Association Insurance: The Basics
Recruiting & Managing Volunteers
Rigged! How to Avoid the Perception of an Unfair Election
Rules of Order for Association Meetings
Rules Enforcement in the Community Association
Reducing Tree Damage & Liability from Storms
The Role of the Association Board vs. The Role of the Manager
Top Ten Issues for Delaware Community Associations
Stop Thief: How to Detect & Prevent the Theft of Association Funds 
Understanding Bankruptcy and It's Impact on Your Community Association
Understanding Financial Statements
Under the Coverage: Insurance Policies Q&A
Where it All Began: A Short Course on the Land Development Process
Zombie Units & Mortgages: Addressing Abandoned Properties
Register for On Demand Learning
Click the On Demand Library to peruse course descriptions and register for available on demand education programs. Click the Online Classroom button to view your on demand learning programs after purchase. You must be logged in first before the Online Classroom link will work correctly.