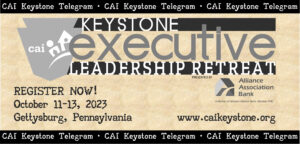 Experience this one-of-a-kind executive education and leadership program for CEOs, Senior Executives in community association management companies and large scale community managers.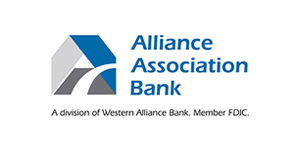 Join us in Historic Gettysburg, Pennsylvania
The Keystone Executive Leadership Retreat, presented by Alliance Association Bank, will take place on Wednesday to Friday, October 11-13, 2023 in Gettysburg, PA. 
Host Hotel:
Gettysburg Hotel, One Lincoln Square, Gettysburg, PA 17325
Hotel Room reservation information will be sent to attendees after you register.
Click here for parking instructions at Gettysburg Hotel.
Registration
Members save $90 on registrations fees for this event. Register before the September 13, 2023 early bird registration deadline and save another $50 off the regular registration fees below.
Registrations made onsite, on the day of the event, will be an additional $20 on the regular rates listed below.
Early Bird Registration – register by September 13, 2023
CAI Keystone Chapter Members – $299; non-members $389
Regular Registration
CAI Keystone Chapter Members – $349; non-members $439
Please note: Due to contractual commitments with the host site, we are unable to refund registrations for cancelations made after September 1, 2023. Substitutions will be accepted for attendees who may need to cancel after this date.
This event is approved by the Community Association Managers International Certification Board (CAMICB) to fulfill continuing education requirements for the CMCA® certification.  This course will earn attendees (8) continuing education credits.  
Sponsors & Exhibitors Private Party Policy: All hospitality suites and hosted events must be approved by CAI. Hospitality suites/hosted events are not permitted during official conference activities. Non-exhibiting companies, groups and individuals are not permitted to host OR attend events at the official hotel during the conference. Contact Chapter Executive Director Tony Campisi, with your requests at tony@caikeystone.org.
Wednesday, October 11
Thursday, October 12
Friday, October 13
Wednesday, October 11
4:30 PM Registration Tables Open, Atrium, Gettysburg Hotel
5:00 PM to 5:45 PM Welcome Reception, Atrium, Gettysburg Hotel 
5:45 PM to 7:00 PM Dinner, Eisenhower Room, Gettysburg Hotel 
8:00 PM to 9:00 PM Optional Ghost Tour of Gettysburg: Haunted Field Hospital: Experience the spooky atmosphere in the halls of the former makeshift field hospitals on this Haunted Field Hospital tour. Listen to spine-chilling stories and explore the Tillie Pierce House and the Jennie Wade Birth House in addition to homes and churches. Do you DARE to join us?
Thursday, October 12
Friday, October 13
Speaker Sponsors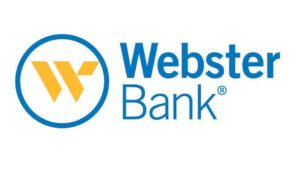 Breakfast Sponsors

Lunch Sponsors



Gettysburg Ghost Tour Sponsor

Networking Break Sponsors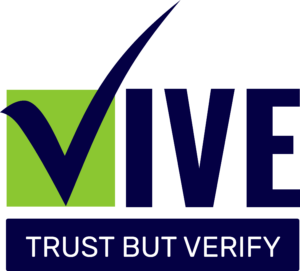 Welcome Reception Sponsors

Dinner Sponsors



Thursday Reception Sponsors


Opening Keynote Session: A Culture of Excellence | Building Success from Within
Keynote Session: A Culture of Excellence | Building Success from Within
Presented by The Ritz-Carlton Leadership Center
Employee mindset has everything to do with whether your business survives or thrives because engaged employees create engaged and loyal customers.
An award-winning employment brand, through this session, The Ritz-Carlton shares best practices on how to activate and sustain a culture where valued and empowered employees own the customer experience. Whether you're re-opening your business in a changed world or re-vitalizing a flagging culture that has shifted to a virtual work environment, our trusted processes take the guesswork out of selection, onboarding, upskilling and retention of talent. Leaders ready to transform their organization will walk away with actionable ideas to elevate experiences and engage employees.
Distinctive Topics
The Ritz-Carlton Culture: Through this in-depth review, you will learn about The Credo, Motto, The Three Steps of Service, The Employee Promise, and the 12 Service Values of The Ritz-Carlton.
Simple, Sustainable Processes: One cannot extend legendary service without having robust systems and processes in place. You will hear about the selection process at The Ritz-Carlton and how we onboard talent and reward and recognize our associates.
Employee and Customer Engagement: The foundation of driving customer engagement is having engaged employees. You will be introduced to the three levels of employee engagement and shown techniques that will enable you to personalize your service and create emotional connections.
The Importance of Empowerment: Empowering your employees is an imperative component of legendary service. You will learn about The Ritz-Carlton Empowerment Guidelines, including how these reduce problem resolution costs and create consistently exceptional service.

CLICK HERE to download Ritz Carlton's Learning Journal. Ritz Carlton recommends attendees download and print or have an electronic version of this fillable PDF available during their presentation. 
Thursday Session 2: Burnout: Strategies for Self-Care for You and Your Managers
Self-care is essential for maintaining well-being and preventing burnout, for both you and your Managers. In this session you will learn some strategies that both you and your managers can adopt to promote self-care. You will also walk away with some knowledge on how to recognize the signs of burn out in your employees.
Presented by:  Lirelle Klein, Human Resources Director, Taylor Management Company, AAMC, AMO & Amanda DaSilva, Regional, Human Resources Director, Associa, Chris Maus, President/Managing Partner, CAMCO Management Co., AAMC
Thursday Breakout Session A: How to Make Your Company More Valuable
The community association management industry is in the early days of consolidation. As many owners can attest, their inboxes are filled with inquiries from potential buyers they may have never heard of before. Our experienced panelists will discuss the current state of the market, provide some guidelines to help you take advantage of this phenomenon and provide an open forum for questions. 
Presenters
Jared Tunnell, Common Area Financial, and Thomas A. Hill, Managing Director, Griffin Financial Group
Thursday Breakout Session B: Strengthening Your Company's Information Security & Technology
Presenters
Stacey Dyer, Alliance Association Bank, Adrian Martin, Webster Bank & David Velasco, JGS Insurance
Thursday Closing Session: Situational Awareness: Protecting Your Employees from Gun Violence
Gun violence is in the news every day in America. Community associations and community association managers are not immune, as the industry sadly learned in 2022 in a high-rise building in Atlanta. This session will provide essential background information on the development of active shooter drills, strategies that you can teach your employees to utilize during high-stress situations, and steps you can take to prepare for significant events and other potential triggering incidents.
Presenters
Michael J. McGrory Jr., and Kara Guerra, FOCUS! Safety Training Academy
Friday Opening Session: Infrastructure Threat Assessment: Are Your Buildings Safe?
Since the collapse of Champlain Towers South Condominium in Florida in 2021, much attention has naturally focused on the structural integrity of buildings. This is an important topics regardless of whether your buildings is one floor or a high rise with dozens of floors. Since that tragic day, the community association industry has intensely focused on infrastructure threat assessments and how to insure the safety of those who live and work in community associations. This session will shed light on the following topics:
Building Codes, Regulations and Ordinances as they relate to existing buildings.
Structural Design and Analysis – structural building assessments, the different types and requirements and how recent building failures are changing the requirements for these inspections throughout the industry.
Mechanical Systems and Utilities – discuss potential for premature failure of mechanical systems and utilities and the significant impact this can have on a communities finances (riser replacements, fire sprinkler and alarm, etc.
Inspection and Maintenance – discuss the importance of detailed inspections and maintenance records and how this can help identify potential deterioration or damage that may affect the structural integrity of the buildings.
Environmental factors – discuss the impact of high intensity storms, floods, snow, and the effects this can have on a building.
Discuss strategies to address and prioritize the most critical issues first to ensure safety of occupants and prevent further damage.
Discuss the need to develop a comprehensive plan for repairs or strengthening measures, obtaining the required permits and approvals.
Discuss the role of an Engineer, Contractor, Manager and Boards as well as others and how to build a team approach for a successful project.
Presenter
Kendall Eberhardt, P. E., Executive Vice President of Pennsylvania Structural/Commercial Division for The Falcon Group
Friday Session II: Reserve Studies 2.0: Navigating the Digital Transformation in Community Association Management
Join us for an enlightening presentation designed specifically for C-Levels in the community management industry, as we navigate the paradigm shift triggered by the Surfside collapse. With increased regulations and a heightened focus on the physical and financial well-being of community assets, our industry is at a critical juncture. Simultaneously, as our industry matures, new business strategies emerge, and rapid advancements in Artificial Intelligence (AI) reshape the landscape. In this forward-thinking session, we will explore the evolving role of reserve studies and their transformation through digitalization. Discover the potential impacts of AI and emerging technologies on community management companies and gain the knowledge and strategies necessary to confidently lead your organization into the AI-driven era.
Presenters
Damian Esparza, Founder, SmartProperty & Chris Maus, President/Managing Partner, CAMCO Management Co., Inc., AAMC
Friday Closing Session: Federal, State, and Local Advocacy & Legislation: A Report of Trends & Current Activities & A Forecast of What's to Come
Advocacy and government affairs are a core function of CAI and have been for the last 50 years. Each year, CAI tracks thousands of pieces of legislation that might impact community associations. Often, what happens in one jurisdiction will eventually spread to other jurisdictions. This closing session will cover current issues and trends at the Federal, state and local levels across America and provide a forecast of what may be coming down the road in a legislative body near you.
Presenter
Dawn M. Bauman, CAE, Senior Vice President, Government & Public Affairs, Community Associations Institute
Table Top Sponsors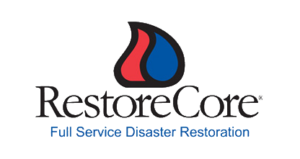 CAI National CEO-MC Retreat
CAI's national office hosts the CEO-MC Retreat every Fall. Visit the national website for full details of this year's retreat.