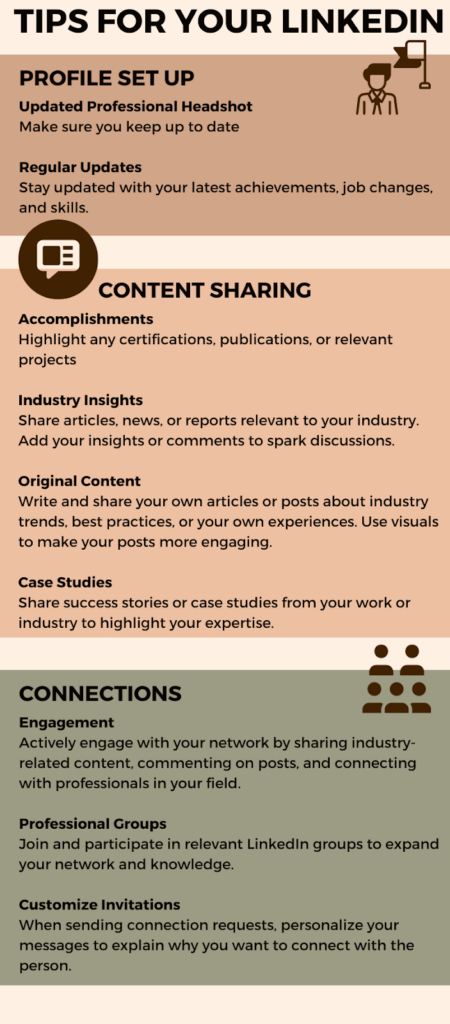 Transitioning from college to the corporate world can be a culture shock, particularly when it comes to reshaping your social network. Young professionals may notice a challenge in switching from the social aspect of a campus to the structure of a professional environment.
Transitioning your social media accounts may sound like a silly thing to be worried about when facing the beginning of your career. David Velasco and Alicia Ambrose from JGS Insurance shared something in a presentation last year that has stuck with me ever since: people sell the product, not the company. On Twitter, now X, Tesla has 21M followers, while Elon Musk has 159M, a shocking difference in followers.
Putting time into shifting your social media over is really important. My goal for 2024 is to start focusing on my personal LinkedIn content and staying up-to-date. If you want to do this along with me, here is my plan (see infographic on the right).
Following these tips will help you, and me, get the most out of your social network and help you reach your professional goals.
ABOUT THE AUTHOR
Kara Guerra, EBP handles business development for SERVPRO Team McCabe and is a member of CAI Keystone's PULSE Committee. She can be reached via email at: kara.guerra@servproupperbucks.com.